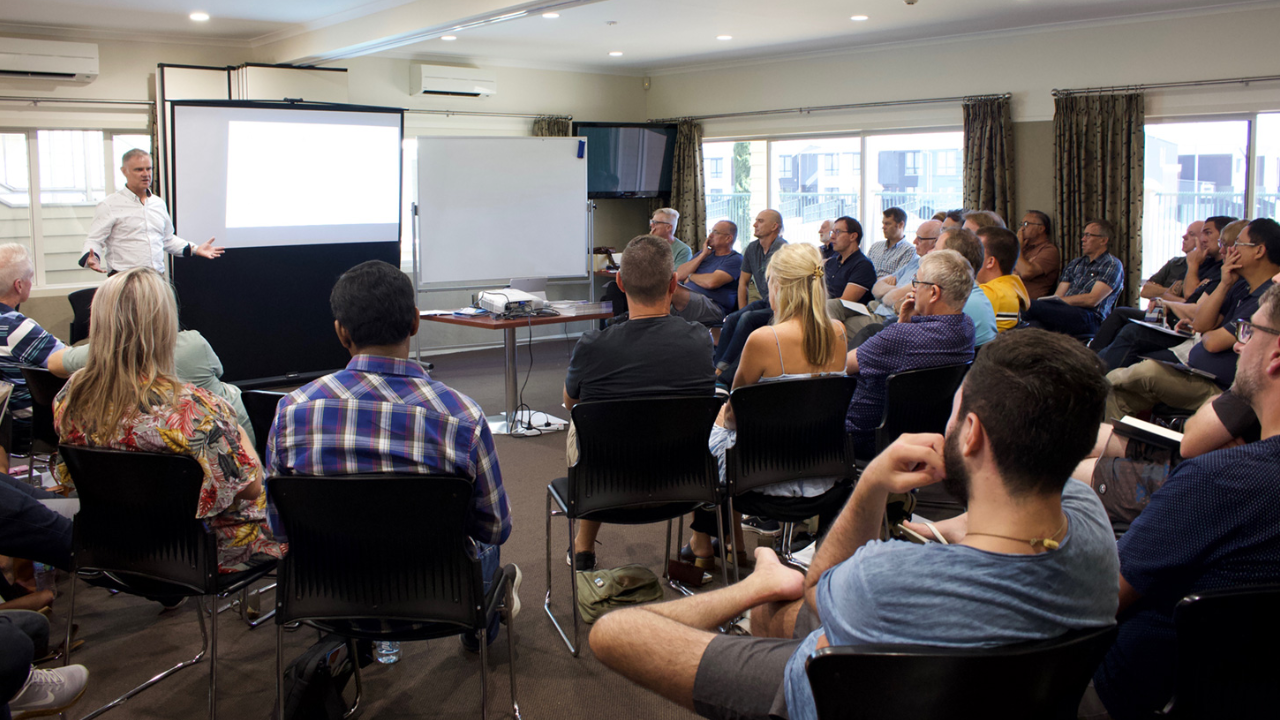 On the 19th and 20th February 2020, 50 Baptist leaders came together for a Baptist Leaders' Retreat centred on the theme 'That's just the way we do things'. We had representation from Assembly Council, Association chairs, regional leaders, the Baptist National Centre, Carey, NZBMS and the Mission Council, Baptist Women, Christian Savings, the Multicultural Inclusion Ministries team, Manatū Iriiri Māori, Orbit, young adults, new leaders, Baptist Youth Ministries and Children and Family. It was so great to have a wide diversity of voices in the room!
We discussed a range of important topics led by experts in various fields:
Lisa Woolley and Fred Astle shared a challenging message on cultural bias: people judging the outside world through a narrow view based on their own culture. They highlighted the bicultural journey that VisionWest Community Trust and Glen Eden Baptist Church have been on and explained the kaupapa Māori framework they have adopted for their work.
Grant Harris took us on a journey of innovative leadership. "The action or process of innovating is crucial to the continuing success of any organisation," he quoted someone as saying. Both Jesus and the Apostle Paul were innovators. For the sake of the gospel, and so that we may share in its blessings, we should not be scared of change or innovation! (1 Corinthians 9:19-23).
Forty of the leadership team at The Render Gathering, a Baptist church in Manurewa, hosted us for an incredible and inspiring night of food, music, multimedia and conversation. They shared with us something of their remarkable journey over the past three years. What a generous, grace-filled community!
Dean Kimpton and Mark Powell shared an exciting methodology for how we may review our resources in order to be good stewards. To achieve our purpose of bringing redemption, reconciliation and healing through the gospel of Jesus Christ, we must position our resources to achieve the maximum return for the Kingdom.
As leaders of different Baptist Union ministries, we talked about how we might better associate together in our roles for the purpose of seeing Baptist faith communities thrive. We were encouraged to read Amos 3:3!
My challenge to our leaders and to you is this: to give up our rights for the rights of others, Mark 10:35-45. I encourage you to read through this passage, which highlights a conversation between Jesus, James and John about leadership in the Kingdom. We have three choices: self or others, power or service, and comfort or suffering. Note the contrast in attitudes in verse 35 to verse 45. As Jesus said, "For even the Son of Man did not come to be served, but to serve, and to give his life as a ransom for many" (NIV).
Contributor: Charles Hewlett, Baptist National Leader
Scripture:
Unless otherwise specified, Scripture quotations are from New Revised Standard Version Bible, copyright ©1989 National Council of the Churches of Christ in the United States of America. Used by permission. All rights reserved worldwide http://nrsvbibles.org/.
Scripture quotations marked (NIV) are taken from the Holy Bible, New International Version®, NIV®. Copyright © 1973, 1978, 1984, 2011 by Biblica, Inc.™ Used by permission of Zondervan. All rights reserved worldwide. www.zondervan.com. The "NIV" and "New International Version" are trademarks registered in the United States Patent and Trademark Office by Biblica, Inc.™