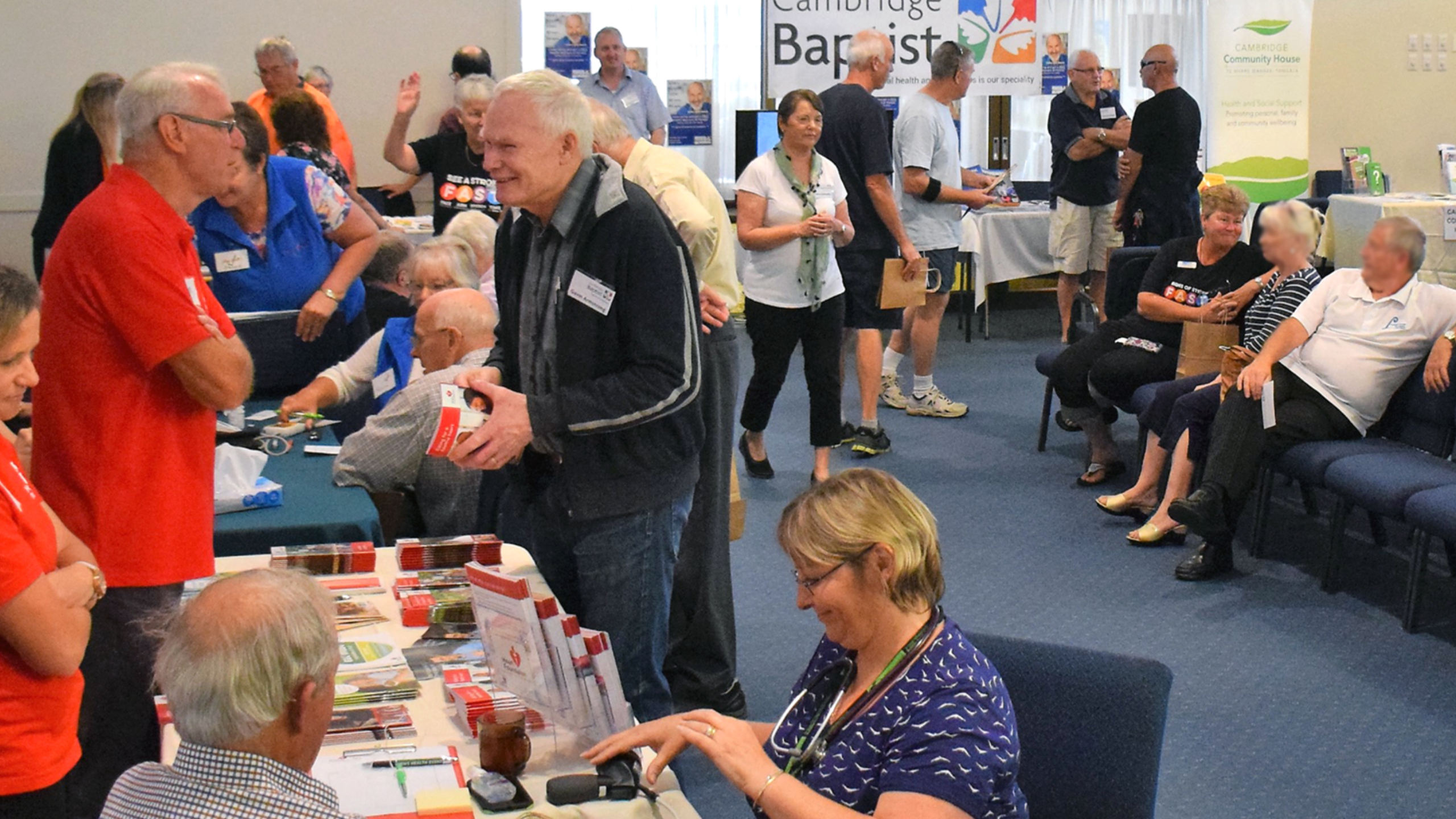 In recent years, Cambridge Baptist Church has run four community events to raise awareness of services for seniors and to provide health screening for men. Delia Edmeades and Helen Vaughan explain how, and why, the events came about.
In 2014, Delia took on the leadership of Cambridge Baptist's pastoral care team, with a special emphasis on the over 70s. This was about the same time that Helen joined the church. Helen has been a faith community nurse for 10 years and was keen to use some of the knowledge gained through this ministry in the church. Delia is a retired nurse/midwife, so they were on the same wavelength.
"My family and I nursed my father through his last few weeks of life. This was made easier because my parents had made plans for their older years," says Helen. "Delia and I wanted other families to think about their senior years and to plan accordingly rather than having to make decisions at a time of crisis.
"Another faith community nurse had run an expo for seniors. She gave us permission to use the name and we went from there. Age Concern had run a men's event in Hamilton during Men's Health Week for a few years. After discussion with them, we decided to run one in Cambridge. We have now run two of each of these events."
Cambridge Baptist's community outreach
The 'Live Well – Live Safe EXPO for Seniors' event provides information on assistance available to seniors in the community, from practical health and safety services, to retirement facilities in the area.
The 'Men's Health' event aims to provide one-stop screening for a wide range of health conditions. All men receive a 'WOF card' to be filled out by the on-site providers. Guidelines are given on recommended health checks for men, with advice to follow up with their general practitioner (GP) if any indicators show up.
"We care about people's spiritual, emotional, mental and physical health, so we try to cover all aspects at our events," says Delia. "It provides an opportunity for the church to serve our community. We have also held seminars on topics such as advanced care planning, the importance of having a will, and setting up an enduring power of attorney."
While Delia and Helen are the organisers, the events are run by a volunteer team of about 30 church members. The most recent Men's Health event was held in March 2018, with approximately 200 visitors attending. Forty health providers, including three GPs and three nurses, represented 18 local businesses or organisations on the day.
"Our home group helped with many of the practical tasks, and a church member who has been a domestic science teacher managed the kitchen aspect," says Helen. "Hospitality was a big part of the event. Morning tea and lunches were offered to the providers, and morning tea to the visitors. Other volunteers assisted with parking, set up and take down, and greeting the visitors."
The future
Through these events, the church has formed strong relationships with the providers, and the feedback from them and the public is definitely positive. However, it is unsure if the events will continue to be an annual fixture on the calendar. Many of the volunteer team are in their 70s themselves, so it may depend on their own health and stamina.
However, it is undeniable that this outreach has been appreciated and is of benefit. As an example, at the most recent Men's Health event, just over 50% of those who provided screening picked up something that needed referral to a GP. Considering that every three hours one New Zealand man dies of a preventable illness, such early detection is important.1Health and senior services providers have also expressed appreciation at the opportunity to network at events like the ones Cambridge Baptist has held.
To other churches contemplating organising something similar, Helen offers some advice.
"I think this type of thing needs to have the involvement of a health professional. It would not have come about for us without my faith community nursing background. I don't think that the providers would have taken us seriously if I hadn't been able to tell them I was a registered nurse. Our nursing also gives us the required background knowledge. So first find yourselves a faith community nurse!"2
Story: Delia Edmeades and Helen Vaughan
Delia has a passion for people's spiritual, physical and emotional well-being. She brings a wealth of nursing and teaching experience to her Pastoral Care Ministry role. Her two sons and two grandsons live overseas, so travel remains on her agenda. She and husband Greg are happy to be spending their retirement years in active service with many of Cambridge Baptist's community programmes.
Helen has been a follower of Jesus since her late teens. She is married to Barry and they have three children and seven grandchildren. She has been a faith community nurse for 10 years and a registered nurse for 36 years. She is currently the Chairperson of the New Zealand Faith Community Nurses Association.
References:
"Men's Health Week 12-18 June 2017," Men's Health Week, menshealthweek.co.nz.
A faith community nurse is a registered nurse who uses their professional nursing skills through their church (See faithcommunitynursing.nz.) Contact [email protected] if you are interested in learning more about faith community nursing or in running an event like this.