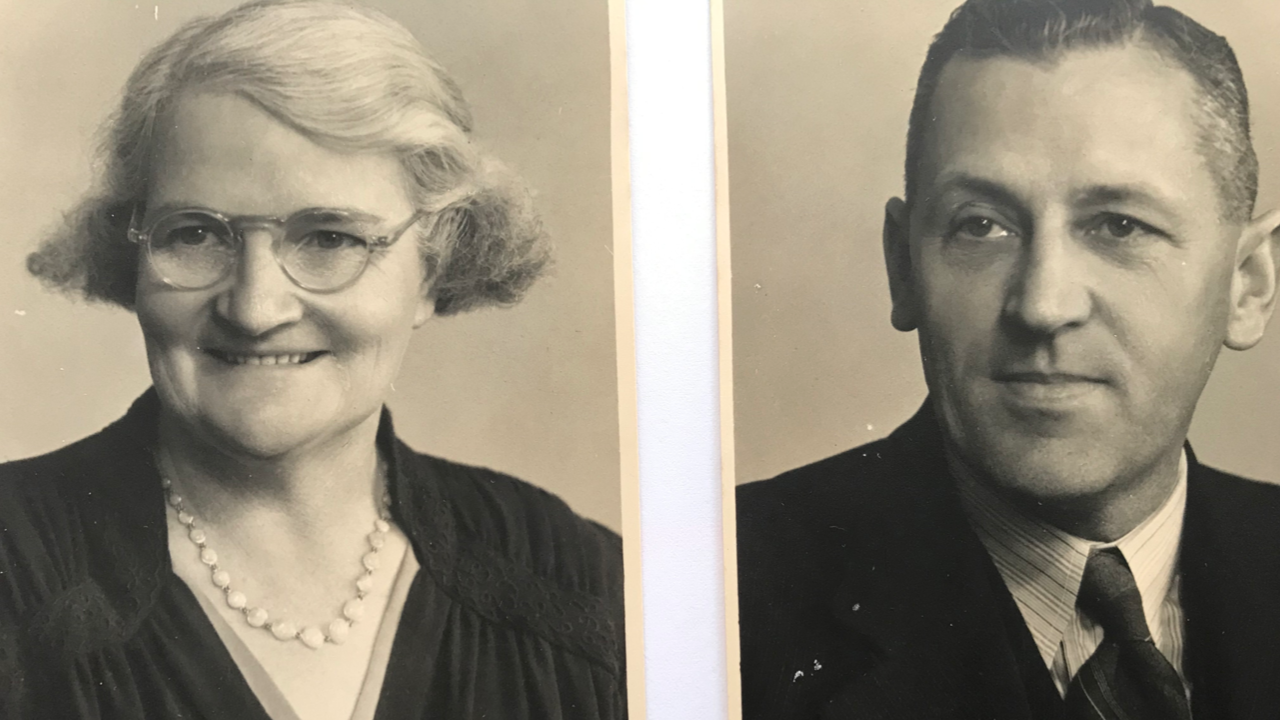 June 26 1898–June 25 1975
Years on mission field: 1924-1958
Nell and Harry Jones worked initially in Brahmanbaria and Chandpur cities in what became Bangladesh. Later they pioneered mission work in Tripura State, near Assam in North East India, visiting many villages, particularly of the Reang tribals now known as Bru.
Helen, (known as Nell) Gillanders and twin sister Margaret were born at Balvonie of Inches, Scotland in 1898 and later moved to Crown House in Inverness.1 The Gillanders family lived as members of the Scottish Presbyterian Wee Frees Kirk until they moved to New Zealand when the girls were twelve years old. They settled on a farm at Waititi, south of Te Kuiti.
The education system took people as teachers prior to training, so Nell started young as a teacher at isolated little Aria, south of Piopio in the King Country in a backblocks Maori school, paid by the education board. Teacher training came later. She became a member of Hamilton Baptist Church and there she met Harry Jones. (He was living in nearby Ohaupo, a studious young man on discharge from World War 1, and had already trained in theology in Los Angeles, U.S.A.)
They applied separately to NZBMS which commissioned them independently to work in India.2 With the blessing of the mission society, they married in Chandpur in December 1925.
Early Days in Chandpur and Brahmanbaria
For some years Harry and Nell worked in evangelism reaching out at times from either Chandpur city (on the Brahmaputra/Meghna River south of Dhaka), or Brahmanbaria city (northeast of Dhaka). The delta of the Brahmaputra/Meghna was still part of India, later East Pakistan in 1947 and then Bangladesh in 1971.
Harry was responsible for both Chandpur and Brahamanbaria work, based in Brahmanbaria. He led in village visits, catechism and Bible teaching visits. People noted that Harry was deeply committed to evangelism, travelling to distant villages in winter (less rain and heat) where he would camp in a place for 10-12 days, preaching in homes and bazaars and showing 'Life of Christ' slides at night.
The couple had two sons, Gordon and Barry. In January 1929 when Gordon was one-year-old, Nell brought him to NZ because he was not thriving. She took the boys back to Bengal, but again found it necessary to bring them to NZ in 1931. Harry commented: 'The boys are evidently not constitutionally fitted to live in this climate.' For the sake of their sons' health and education, Harry and Nell then made the sacrifice of leaving them in New Zealand. At first Gordon and Barry, were at the Petone manse in the care of Nell's older sister Nan and the Rev JC Loan (Jack). That made a family of eight for the couple already had three small sons and a daughter. Later, Harry and Nell moved the boys to Roy and May Thompson in Mount Albert, Auckland. They welcomed Gordon and Barry and acted as their substitute parents happily along with their own children for many years. Nell and Harry felt keenly the sacrifice of returning to India without their sons, as for years their main contact was meeting them on furlough visits to NZ and writing letters. They were also deeply grateful to the Thompsons. (Later Barry took up farming and Gordon qualified LLB in law and LTh. at the Baptist Theological College before joining his parents in Tripura in 1955.)
From 1934 Harry and Nell made visits to North Tripura, crossing the border at Akhaura by cycle rickshaw, then travelling on foot. Roads were few and much of the state was jungle. The Maharajah did not permit an established mission centre within his kingdom until 1938 when, after a long wait, Malcolm Eade (known as MJ or 'Paddy') and his wife Catherine, living in Brahmanbaria, received permission to live in the capital at Agartala and to purchase land in the suburb of Arundhutinagar. 
Pioneering in Tripura
Harry and Nell had yearned to cross into Tripura, especially as Agartala is only 27 km from Brahmanbaria, across the state border. The couple were among the first New Zealanders permitted entry and residence in the 'Hill Tipperah State' of Maharajah Sir Bir Bikram Kishore Debbarman Manikya Bahadur G.B.E. K.C.S.I.
On one trip, they travelled on foot, then by elephant, followed by 3 days in dugout canoes and then further trekking, in order to spend 3.5 months in a tiny bamboo hut.
There is a passage in Harry's handwritten diaries describing how Nell, who was not a small woman, managed to slip and slide up and down muddy tracks through the jungle to the small village of Hawaibari. There they met with Kuki people, who had heard the Gospel from Mizo evangelists. However, because of their poverty and lack of support, their Christian faith had faded. The Jones' visit was timely and the people were encouraged and renewed.
The Maharajah, who wanted only education and medical input, consented to the missionaries starting St Paul's School and a hospital. Both were in Arundhutinagar, built on 50 acres purchased from the Maharajah. Harry and Nell frequently stepped in to fill gaps in these initiatives of other New Zealanders during the 1940's and Harry taught the students at Tripura Bible School, replacing BN Eade, in 1946-47.
War Years
When World War II intervened, Harry Jones and another NZBMS worker Rev Royston Brown received permission from the mission to enlist in the Indian Army. Harry became a Lieutenant Commander and led his troops from the army HQ south of Chandpur at Comilla. He received the M.B.E. for his services in the army. Under his leadership, many were encouraged in their new Christian faith. Indeed, 81 Indian soldiers were baptised in May 1944, encouraged by Harry.
Nell told a story that gives insights about their travel shortly after the war.
We had to sit bolt upright on hard wooden seats. A man got in at a station about midnight and sat by Harry, went to the toilet soon after and at the next station shuffled noisily out from the carriage. By the station lights, I saw him go through a fence and over a ploughed field. 'Ah', I thought, 'No ticket probably.'
Later Harry woke and felt around in vain for his shoes. The wily short distance passenger- thief had helped himself. No wonder he made a noisy exit in shoes several sizes too large. Because of heavy rain Harry had put an extra pair of shoes in his suitcase so was able to attend the Durbar."
Back to Tripura
After the war, Harry and Nell lived near Ambassa for a while, beside the river at Manu, where Bengali people were the shopkeepers in the bazaar. There were lots of brothels but also farmers bringing produce. Here the mission bought land as a centre for tribal poor, and people came for support and ministry. Once people brought a distressed elephant with a thorn in its foot. It was scary, but Nell cut into the festering foot and removed the thorn.
Later Harry and Nell moved to live in Dosda valley where they began their strong connection with one particular Tripuri tribe, the Reang, whose language, later known as Bru, is of the same group of languages as Kokborok, the language of the Maharajah's Debbarma royal tribe.
Mizo villages were on the range above the valley where it was cooler, but in those days Mizo women were beasts of burden having to fetch water daily from the valley floor 1000's of feet below. The Reangs lived mostly in the valley close to the water source and their fields for crops. The culture of the Reang was distinctive. Women wore a small handloom breast binder, necklaces of silver coins and a tiny skirt. Their colours were white and black with a touch of red. Dancing in costume was a feature. The tribe was often disadvantaged in their contacts with other tribes and Harry and Nell's assistant, Drau Kumar Reang, who was a wonderful help, later became a well-known politician for his people.
Harry and Nell used the Reang village of Helenpur in the Dosda valley as their headquarters. In fact, the Reang had named it after Nell (Helen). The people loved Nell and treated her like a queen, perhaps because she was with them more, for Harry was often away preaching. She learned Bru, translating the first letter of John and Mark's gospel into Bru, along with Bible-teaching materials. The Reang people now have their full Bible, but this early effort brought many into the kingdom. Harry baptised people in great numbers in shallow streams!3 The people were etched on the hearts of these two missionaries, and Harry and Nell's names were written on the hearts of the Bru people.
Although her training was as a teacher, Nell became quite a linguist. Her significant contribution in Tripura State was to translate hymns, scripture, and Bible teaching materials into the Reang/Bru language. She is the first recorded European to have preached the Gospel in Reang. Harry and Nell's pioneering work in North Tripura was marked by compassionate concern, sacrificial service and faith, and Nell's service in East Bengal was recognised in 1951 with a Governor's medal.
In 1956 Harry and Nell moved to Chandpur to take up mission tasks while Bob Alcorn was on furlough. They retired to New Zealand in 1958. While on final deputation, Harry suffered a heart attack when getting off a bus in Kaitaia and died there.
Later Years
Nell stayed on in their home in Leamington, Cambridge. She did not have a car but loved to walk everywhere. She was active in Cambridge Baptist church, a wonderful conversationalist who loved visiting so much that she was hardly home. Later the mission bought three brick retirement units in Otumoetai, and Nell moved there to a pleasant unit. Again she walked everywhere, even two or three miles to post Christmas cards at Bethlehem. She was greatly loved by her grandchildren and loved having visitors, especially Barry's children who were in Rotorua. Nell lived until June 1975.
And a Delightful Extra Insight
In 1998 Nell's daughter-in-law, Elizabeth, who had married Gordon and served as a missionary in Tripura, returned to Helenpur. The people met her with a huge assembly in Nell's honour. They had adored her. Women wept in memory of her. They knew Nell had given up her children for them and that she had learnt to speak their difficult Bru language. In 2017 Christine Helen Jones, Nell's granddaughter, made a pilgrimage to Helenpur. The people gave her the warmest welcome and, to her delight, shared their loving remembrances of Nell. Today their culture is strong, many are Christian believers and their wonderful ability in tribal dance is famous, with teams paid by the government to perform all across the nation.
Beulah Wood, assisted by Elizabeth Jones
Sources
Personal conversation with Elizabeth Jones (daughter-in-law), 29 July 2022
Obituary: NZB August 1975, 12
Toward the Sunrise, p. 65 ff,
Funeral eulogy, Helen Jones, NZ Baptist, 1975