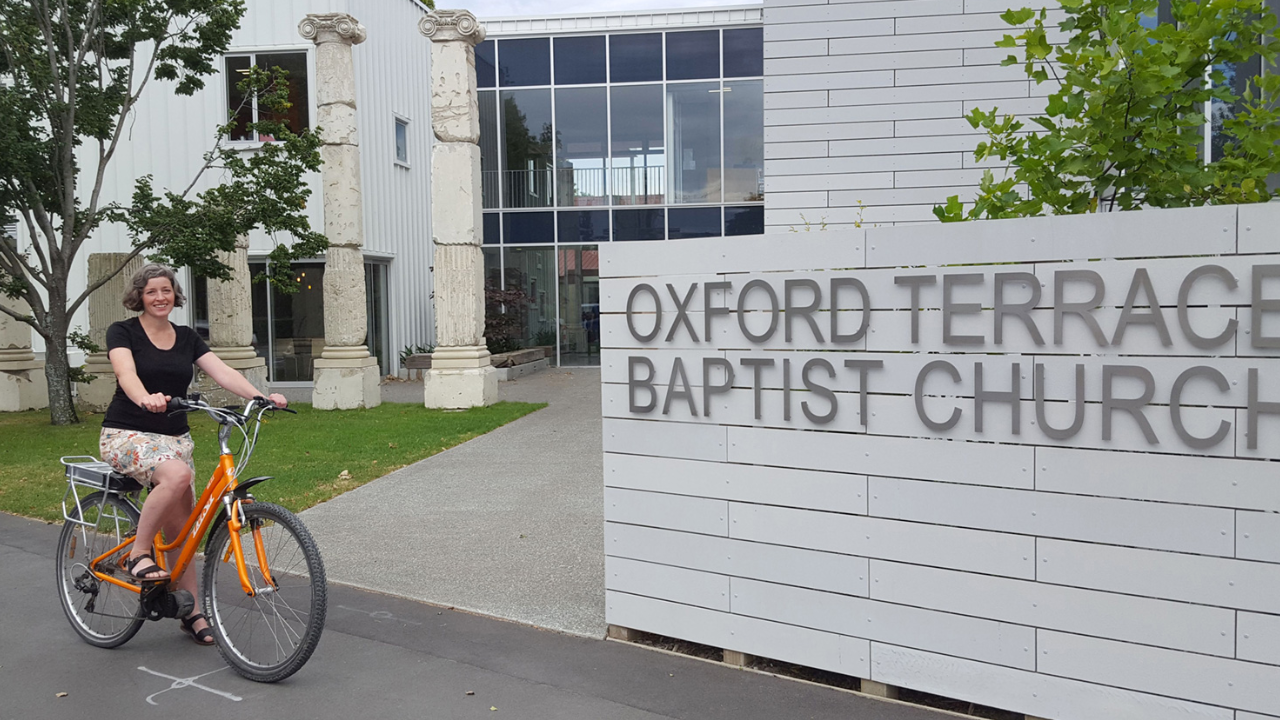 Steve Muir has purchased 10 e-bikes over the past year and is loaning them long term to Baptist church leaders. The idea behind the project is that pastors will be able to connect with their congregation and neighbourhood, while simultaneously modelling a positive lifestyle change. He shares how the experiment has been going.
Our world is desperately looking for spiritual wisdom and practical solutions to the destructive effects our lifestyles are having on the planet.
Gus Speth, an American science advisor on climate issues, has reportedly said, "I used to think that top environmental problems were biodiversity loss, ecosystem collapse and climate change. I thought that thirty years of good science could address these problems. I was wrong. The top environmental problems are selfishness, greed and apathy, and to deal with these we need a cultural and spiritual transformation. And we scientists don't know how to do that."1
Creation care in Scripture
The Bible has a lot to say about our role in caring for God's creation. God places Adam in the Garden of Eden to "work it and take care of it" (Genesis 2:15, NIV). Some have interpreted this and other passages about humans having dominion over creation as permission to exploit nature. However, as image-bearers of God, we are called to be benevolent, prudent and responsible 'rulers'.
Many of the Old Testament laws concern wise advice on caring for the land and place limits on the amount of resources we can extract. Romans 8:19-21 makes it clear that God's purposes are to redeem the Earth along with humanity and that God's love is for the whole world (John 3:16) not just the human bit.
Jesus, our model
In his time on earth, Jesus modelled a strong community-living ethic and encouraged radical sharing of possessions and low levels of consumption. If we followed suit it would go a long way to lowering the amount of stuff that needs to be mined, processed, packaged and transported, emitting carbon all the way along the supply chain.
Jesus also modelled active transport! Some eco‑friendly behaviours do involve a little pain or sacrifice (e.g. reducing meat and dairy intake) but active transport keeps you healthy, saves you money, is often faster, and is fun, particularly when compared to being stuck in a queue of cars. It is also one of the most effective things you can do to reduce your personal carbon emissions.
E-bike pastors
Pastors in the e-bike project can now cycle across the other side of town (> 15km) to do a pastoral visit or attend a meeting. They have no parking hassles and can arrive in record time without a drop of sweat, meaning they can cycle in normal work clothes and don't look unprofessional when arriving. Here are some of the participants' experiences:
Chris Chamberlain (Oxford Terrace Baptist Church) was impressed at the reduced time to commute into work and loves avoiding parking problems at the hospital when visiting members of his congregation. The Oxford Terrace e-bike can be booked out by the other NGOs who share office space in the new church premises. Church members can also borrow it to try it out, resulting in several families now commuting regularly on their own e-bikes. (Julie Chamberlain, Chris's wife, is pictured on page 11.)
Colin Wood (Parklands Baptist Church) knows that it is the poor of the world who suffer most from the effects of climate change. An e-bike uses a tiny proportion of the energy that a car uses, and so he feels it is a small step towards righting the social justice imbalances of our travel choices. He has also noticed that on a bike you can greet others, or stop and have a chat, whereas in a car you would drive past. Many of Jesus' significant encounters happened while he was walking 'on his way' from one place to another. It is a very important part of connecting our society together.
Peter Hart and Callum Swarbrick (Ilam Baptist Church) both have e-bikes for their daily commute. Peter had not cycled for more than 20 years but was inspired by the high proportion of bicycles to cars at Ilam church on Sundays and is loving the freedom of the e-bike.
South West Baptist Church has a large pastoral team, so they have put the e-bike on their vehicle booking system so staff can book it like they would a work car. Andy Carpenter, the Tuesday Christian Fellowship pastor, has been an enthusiastic user of the e-bike. His biggest complaint was that he didn't get enough exercise using it, until he discovered that the level of electric assist could be turned down to allow more contribution from the pedals.
Elliot Rice at Papanui Baptist Church was a keen cyclist until his bike got stolen, so the offer of an e-bike was timely and much appreciated. He has used it extensively to do visits around his church patch and to join the church in their annual 'Church Bike & Picnic'.
Annette and Simon Williams from Kaiapoi Baptist Church use the e-bike on their three-kilometre daily commute and to visit people locally. Simon has always believed in community and living locally, so travelling by e-bike makes it easier to connect with people on the way and start conversations around faith and sustainability.
Doug McConnell at Linwood Baptist Church has also been loving his e-bike and particularly enjoyed a 26km journey averaging 38km/hr.
Iain Froud, pastor at Oxford Baptist Church, commutes 8km to Oxford township most days on gravel roads.
Silvia Purdie leads the A Rocha Christchurch group (a Christian ecology group) and is minister at Cashmere Presbyterian Church, which is one kilometre up a steep hill. She was not able to manage the hill unassisted, but with the e-bike she can now bike regularly to work.
Getting more pastors on e-bikes
The church has a huge missional opportunity to live low‑carbon, eco‑friendly lifestyles, and we have all the right motivation in the Bible we need to lead a society‑wide transformation that will make the church the 'salt and light' where we are needed most.
The e-bikes have been a huge success in enabling pastoral staff to model creation care practices to their congregations. It would be good to see more churches around New Zealand adopt these practices and provide e-bikes for their staff.
Reasonable quality e-bikes can be purchased second-hand for around $1,000 and there are conversion kits available for around the same price. There is the possibility of importing a larger number of conversion kits or e-bikes as a church. These could be used as a fundraising opportunity as well as promoting healthy transport choices.
If you have any questions or would like to contribute towards getting more pastors on e-bikes, contact me on 021 061 9296 or via email.
Story: Steve Muir
Steve is a member of Oxford Terrace Baptist Church, living in central Christchurch with his family. He enjoys the freedom, speed and exercise of biking and constructs all manner of bike trailers to carry everything from shopping to five-metre-long kayaks behind his bike. He has been involved with groups fixing up bikes for free for over 10 years and with A Rocha Christian ecology group in New Zealand. He loves experiencing God through the beauty of creation, as well as finding ways to care for our planet more effectively.
Reference:
"The environmental crisis is not environmental. It is spiritual," NC Interfaith Power & Light, https://ncipl.org/environmental-crisis-not-environmental-spiritual.
Scripture quotations taken from The Holy Bible, New International Version® NIV® Copyright © 1973 1978 1984 2011 by Biblica, Inc. TM Used by permission. All rights reserved worldwide.