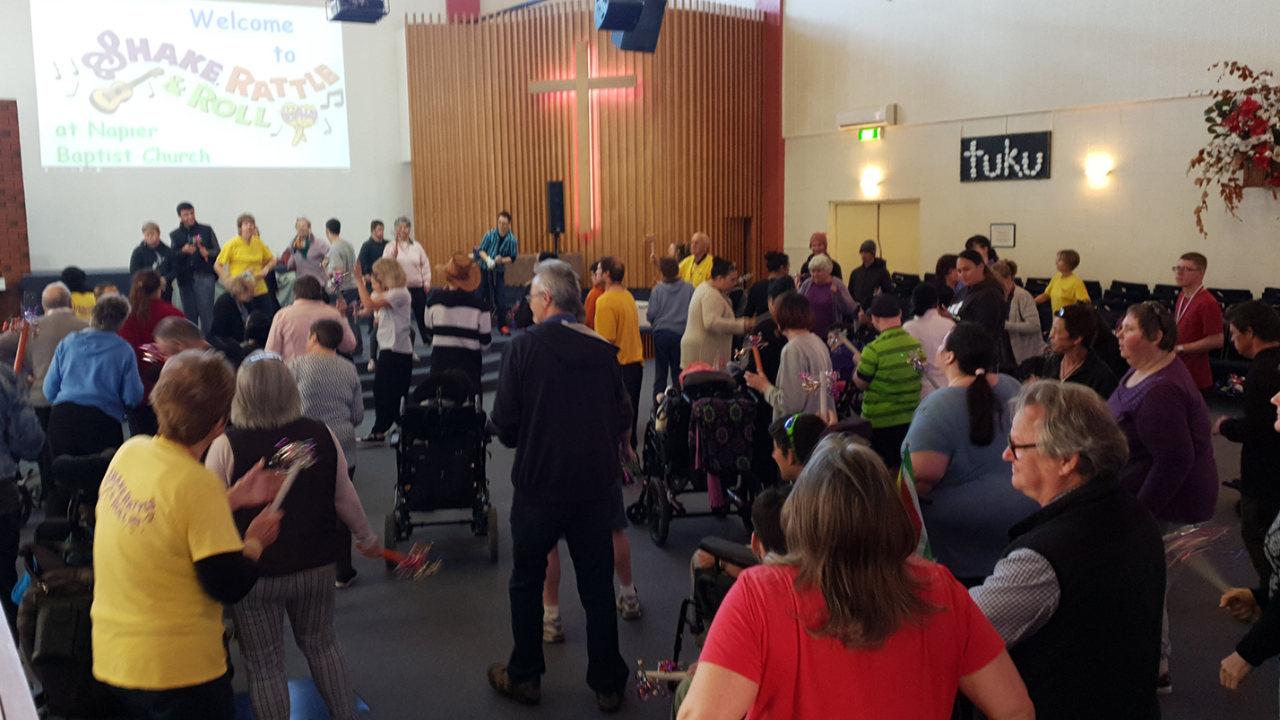 Every Wednesday, Napier Baptist Church's auditorium reverberates with music, songs, haka and laughter. It is all part of the church's fun-filled ministry Shake, Rattle & Roll, for adults with intellectual disabilities.
Before moving from Auckland to Napier, we had helped to establish a busy Shake, Rattle & Roll at Westgate Baptist Church. We wondered if there were enough intellectually disabled people in Hawke's Bay to support something similar. The answer is there are always 'these folk' in every community but they can often go unnoticed.
So, in October 2015, with the assistance of some wonderfully enthusiastic volunteers from Napier Baptist, we opened our doors to 30 people plus their caregivers. Four years on and each week we currently welcome around 90 attendees, their 40 support workers, and family members who often come to discover more about us and this activity that has become so important to their loved ones.
We commence and end our sessions with two powerful Christian songs, which are now well known, with everyone singing the words and often asking about their meaning. Our team members also meet to pray together as needs become known.
This team includes 17 church volunteers, who are mostly retirees and who have adopted roles according to their giftings. So we have traffic coordinators for the arrival and safe departure of the mobility vans, greeters and hug givers, the audio people, helpers who interact and keep the sessions moving along at a lively pace, those who hand out water during breaks, kitchen servers for our popular morning tea café, and people who set back the chairs for Sunday morning service.
There is no great mystery to our success as it's about the music but it's mostly about the love. We love these wonderful individuals who have become our friends. Their bravery, good humour and care for one another is astounding. They give everything a go, undaunted by their physical or mental limitations.
This ministry reminds us of Luke 14:2: "Go out at once into the streets and lanes of the town and bring in the poor, the crippled, the blind and the lame."
Story: Gail and Tony Langdon