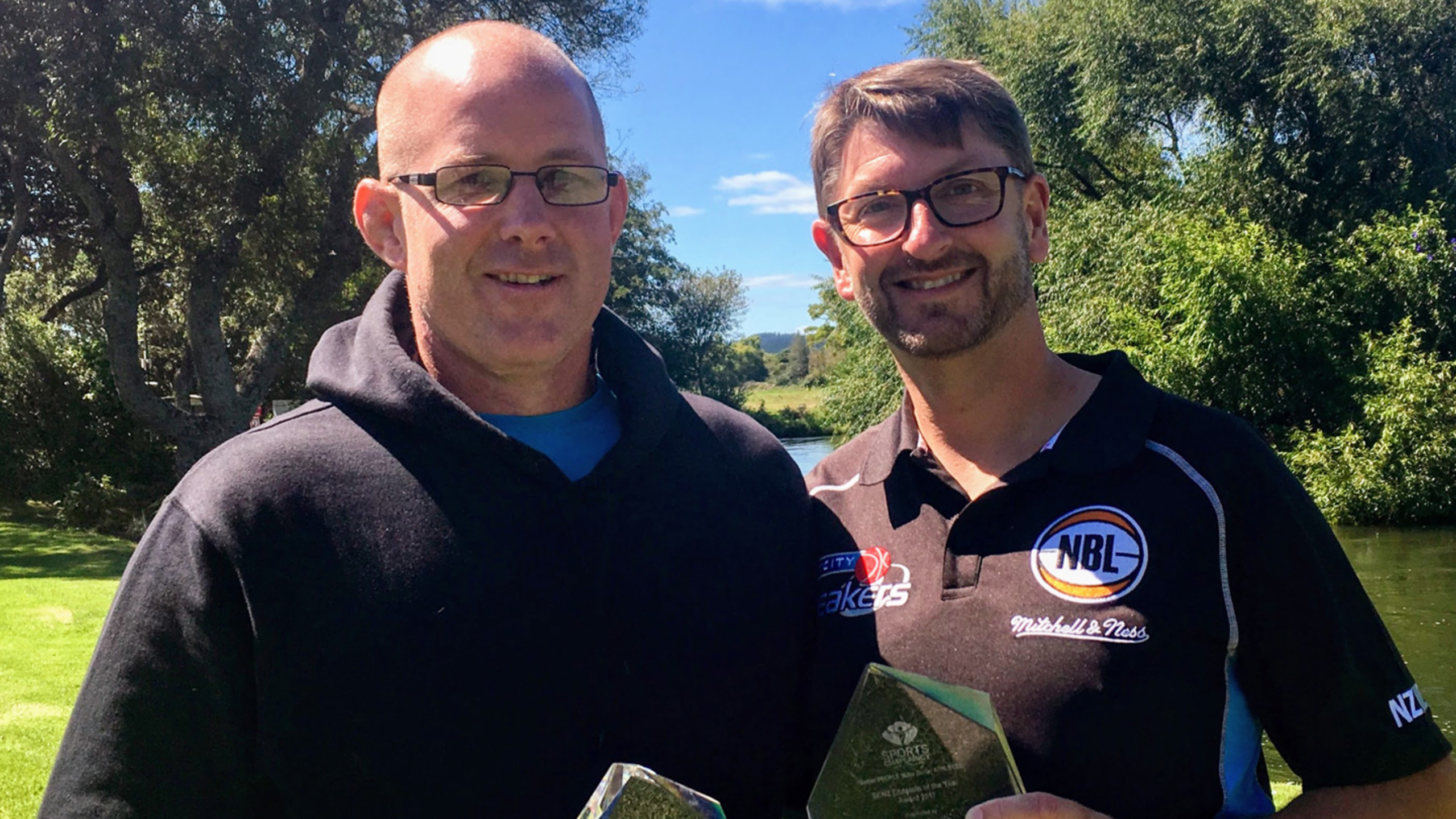 In March 2018, Sports Chaplain Grant Harris received a Chaplain of the Year award for 2017. The award was made late because Sports Chaplaincy New Zealand (SCNZ) did not hold a ceremony last year. Grant, who is also Senior Pastor at Windsor Park Baptist Church, recently finished his eighth playing season as Chaplain with SkyCity NZ Breakers. Coincidentally, the 2018 award also went to a basketball chaplain—Shane Auld who serves with the Southland Sharks (shown left in photo with Grant).
Grant did his training with Sports Chaplaincy Australia (SCA) in Melbourne because SCNZ hadn't been formally established at that time. SCA was formed in 1984 and has approximately 800 chaplains. SCNZ, which became a charitable trust in 2013, recently appointed Morrinsville Baptist's former Senior Pastor, Phil Pawley, as its Chief Executive. It has about 50 chaplains.
"There are only a few of us who chaplain professional sports teams," says Grant. "The majority are with lower-level clubs, schools and community sporting groups. Shane and I have a heart to get chaplains throughout New Zealand basketball. Willie Bryant, who attends Palmerston North Central Baptist, was recently appointed to Basketball Manawatu."
Grant says that one of the first things Dean Vickerman, former Head Coach at the SkyCity NZ Breakers, requested on becoming Head Coach at Melbourne United last year was to appoint a team chaplain, based on his experience with Grant in New Zealand. This shows the mana with which the chaplain's role is held.
https://vimeo.com/157522089?embedded=true&source=vimeo_logo&owner=49574335