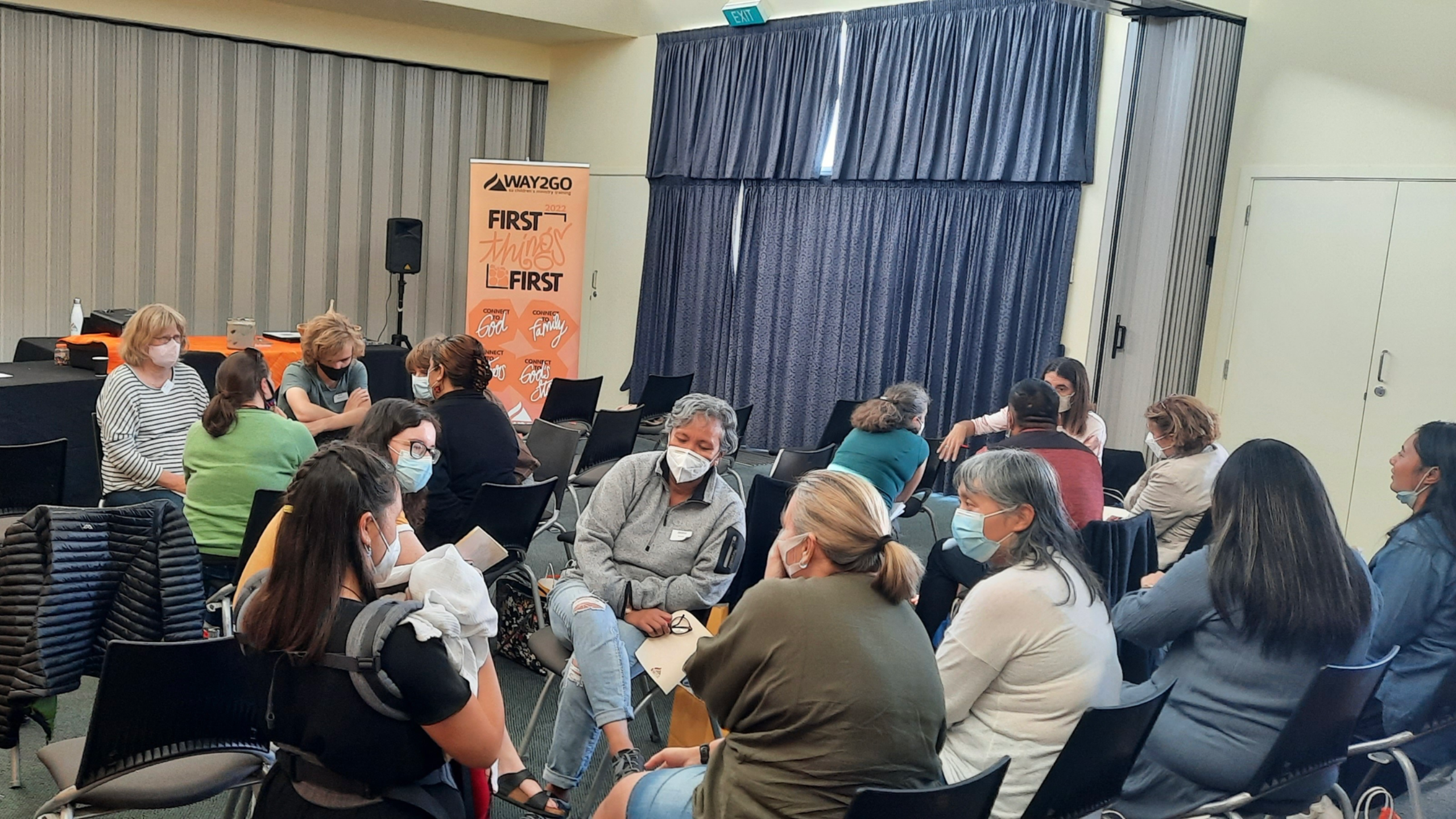 Jan Ozanne, Family Pastor at Ōtūmoetai Baptist Church and Children and Families coach for the Bay of Plenty & Eastland Baptist Association, tells us why this is an excellent tool for robust leaders.
I love being an NZ Baptist! I love being part of our collective of faith communities, bringing gospel renewal to people and places. This vision, articulated by our National Leader Charles Hewlett, inspires me to be the robust leader needed to participate in the Mission of God in my community effectively. What does a robust leader look like? It means many things, but one characteristic of robust leaders is that they develop themselves and the people they lead. They invest in their personal training and growth and that of their teams.
As a children and families leader, I have found it challenging to find effective, local, in-person training to attend with my people. This is why WAY2GO is such a blessing to the local church in Aotearoa. Run by the experienced team from Scripture Union and with local practitioners, this children's ministry conference provides accessible and valuable training to the local church.
Last year I attended WAY2GO with several members of my team. I found this to be excellent team building, as it provided the space for us to connect and discuss the key foundations of our ministry with children and their families. The day's content was a great mix of big-picture thinking and vision alongside practical ideas for achieving this in our local contexts. It was also valuable to rub shoulders with leaders from other churches in our community.
This year WAY2GO is again visiting the regions, with ten venues across the country, between May and August. There will be a WAY2GO near you! A range of workshops on various topics will help robust leaders develop robust teams that can work with God to bring gospel renewal to the people and places where they serve. Register your team today!
For details, check the website: sunz.org.nz/children-and-families/way2go/way2go-2023?stage=Stage
Why WAY2GO?
Lizzie Moore, Associate Pastor, Central Baptist Church Invercargill
Hi, my name is Lizzie Moore. In February 2022, I took on the role of Associate Pastor at Central Baptist Church Invercargill. This role involves overseeing pastoral care and home groups and helping new people and families connect in and become part of the whānau. I have also been a Youth Consultant for Scripture Union New Zealand for the past five years.
I have seen WAY2GO have a significant impact on leaders from many denominations. It is a day full of encouragement and support, with big-picture thinking and practical training for helping young people grow in their faith.
WAY2GO has impacted my work in my church by helping me see the importance of working together across the different ministry areas of the church. When children's ministry is thriving, that is a win for the whole church. It has helped me cast the vision of intergenerational ministry and its importance to the entire church and has inspired me with all age service ideas. It has also led me to encourage all age life groups to start up and given me some practical skills to help those leaders.
The value of WAY2GO for me in my role is a testament that WAY2GO is valuable for all those in church leadership.
Judyanne Cutler, Children's and Families Coordinator, Northcote Baptist Church, Auckland
I have found WAY2GO to be the perfect opportunity to train and build into the life of volunteer leaders. I have registered groups of young leaders (paid for by our church) and suggested different workshops for them to attend so that our church benefits from a broad range of input. The leaders feel the church is valuing them for their leadership by enabling them to attend and it also broadens their outlook on ministry by being part of a big event with many other leaders from around the region. The drive to and from in the car is also good team building, especially as they share the highlights from the workshops they attended.
I would thoroughly recommend taking a team along to build into your volunteers!
Cherith Peau, kids ministry leader at the Render Gathering, Auckland
Kia Ora, my name is Cherith Peau and I am the kids ministry leader at the Render Gathering. Way2Go has provided me with opportunities to incorporate, role model and provide our children and whanau to continue developing their faith in our preschool, at church and at home. It's a great opportunity to get amongst other believers, sharing ideas, implementing new tools and developing my own ability to continue teaching and training up children in the ways of the Lord.
Photo: supplied by Jan Ozanne