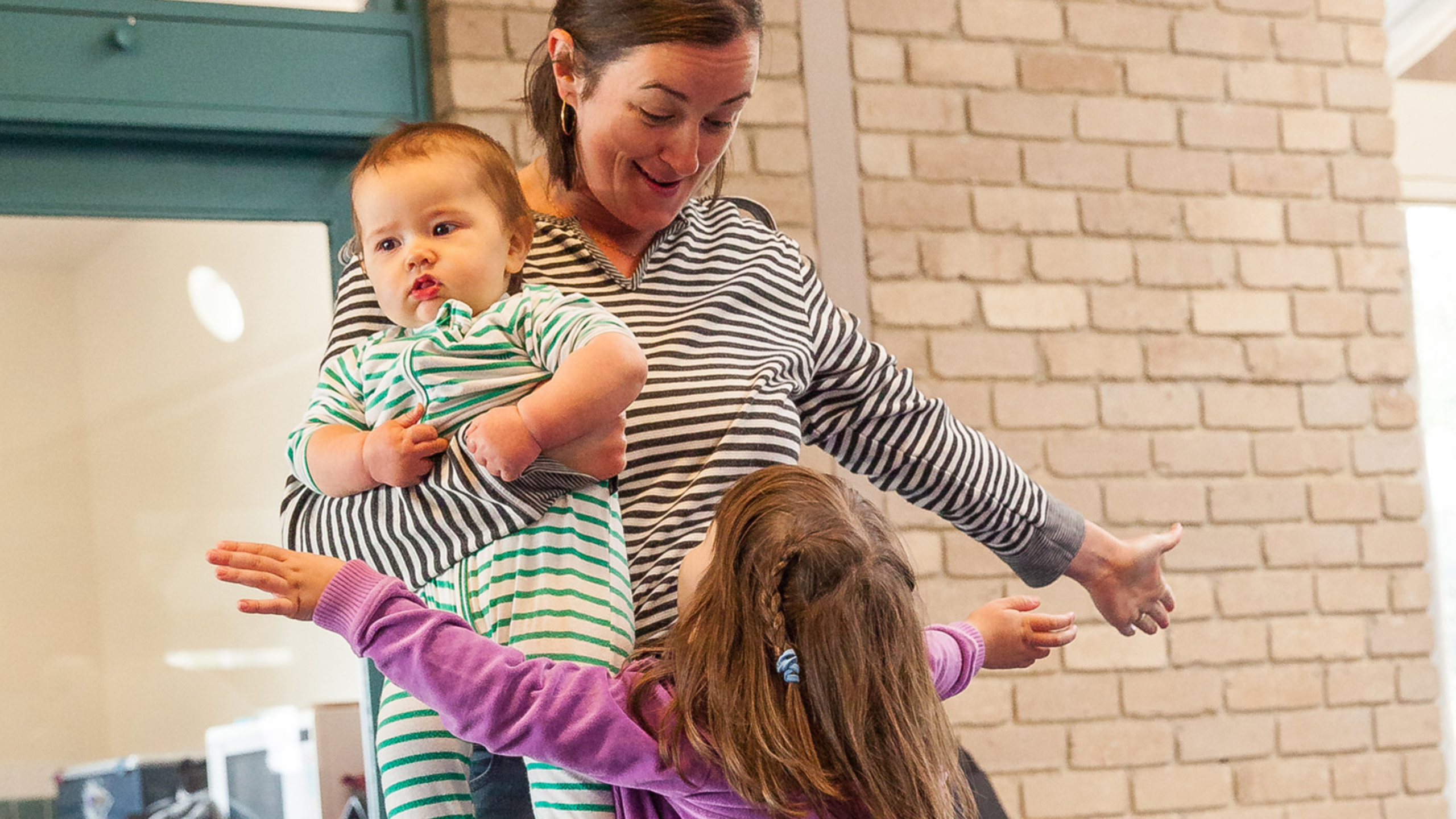 Last year Elke Keeling undertook a research project with mainly music. It was a work of practical theology, to explore mainly music as a place of spiritual nurture for young children. She shares some of her research findings with us.
When I asked mothers from mainly music groups whether they thought the programme was worth it, they all said an unqualified, "Yes!" However, what I often hear from churches is, "We are not sure."
I facilitate a mainly music group myself and I experience the challenges. I understand what it takes and I ask myself, "Is it worth it?" I add my yes to that of the mums I spoke to in my research, because mainly music makes an impact for the Kingdom through nurturing spirituality in both children and adults. Allow me to explain how.
mainly music in a nutshell
The mainly music organisation resources its partner churches with a clear vision and mission, as well as many pragmatic tools. Every local group offers the opportunity for parent and child to be together, in community with others, in creative, enjoyable and relaxing sessions.
mainly music teams provide an environment of delight, acceptance and growth through music and hospitality. Further, they support families through practical love and care that goes above and beyond what participants expect.
All this together allows the Spirit of the love of Jesus to show so that children and families might experience a process of searching freely for meaning that might also include exploring a relationship with Jesus Christ. This is significant. But still the question lingers: is it worth it?
Faith development
James Fowler, a well-known researcher in faith development, describes what he sees in young children in regard to their faith development:
In the pre-stage called Undifferentiated faith the seeds of trust, courage, hope and love are fused in an undifferentiated way and contend with sensed threats of abandonment, inconsistencies and deprivations in an infant's environment. Though really pre‑stage and largely inaccessible to empirical research of the kind we pursue, the quality of mutuality and the strength of trust, autonomy, hope and courage (or their opposites) developed in this phase underlie (or threaten to undermine) all that comes later in faith development.1
Using Fowler's insights, we see that mainly music can help parents to do some of this 'work' of nurturing their children's spirituality, by providing an opportunity for parent and child to interact together in a safe, trusted, imaginative and musically‑creative environment.
Generous love
"But where is Jesus introduced?" I hear you ask. The approach used to realise this aim is clearly laid out throughout the mainly music vision and mission documents, in which the overarching method of operation is summed up in Ephesians 5:1-2 (MSG):
Watch what God does, and then you do it, like children who learn proper behavior from their parents. Mostly what God does is love you. Keep company with him and learn a life of love. Observe how Christ loved us. His love was not cautious but extravagant. He didn't love in order to get something from us but to give everything of himself to us. Love like that.
At mainly music, sessions are organised around an environment of loving community that is more about process than production. It offers children and parents a safe, relaxed environment where they can experience 'just being' for an hour or two a week.
This is an element of spiritual nurture that is sorely needed in our culture of busyness and work/family balancing, and makes a positive difference for children and families in our communities to be able to thrive. Stories about God and God's work in our lives are told in the midst of this trusted community, and the Holy Spirit grows the seeds in the lives of the children and families.
The mainly music teams facilitate this spiritual nurture by offering unconditional love and welcome in the Spirit of Jesus. In this regard, they embody the words of Jesus (Matthew 18:2-5):
He called a child, whom he put among them, and said, "Truly I tell you, unless you change and become like children, you will never enter the kingdom of heaven. Whoever becomes humble like this child is the greatest in the kingdom of heaven. Whoever welcomes one such child in my name welcomes me."
A worthwhile investment
From my research, I would suggest that mainly music plays a significant, albeit sensitive, role in nurturing spirituality in children and their grown‑ups. Our research participants gave us a glimpse of what mainly music means to their children, highlighting that
it contributes positively to their overall development
children experience a high level of enjoyment and love for the musical and bodily interaction
relational skills and interactive experiences widen their world
the songs stimulate their imagination and create deep, precognitive memories of God's presence
it fosters spiritual nurture in a space that supports the innate 'being' of the child.
So is it worthwhile to take up the challenge of running a mainly music? My research says yes! This is an investment for our future where the generations can say they attended a mainly music as a child and are now bringing their children.
Be careful, then, when you embark on this journey of nurturing children's spiritual lives. You may have gotten into this because you want something more for your children...Nurturing spirituality is not something you do to or for your children; it is something you do with your children. And with your children, you will learn, discover, and grow in ways that you cannot predict or control. It will change you. And you will all be better for it.
—Eugene C Roehlkepartain2
Story: Elke Keeling
Elke has served for over 25 years in children's ministry in New Zealand. She co-leads Godly Play New Zealand and trains Godly Play teachers around the country. She is involved in postgraduate research in children's spiritual nurture and offers coaching to leaders of children's ministries. Elke enjoys facilitating a mainly music group, telling stories about God to preschoolers and getting involved in environmental projects.
---
Testimonies
Here are some mainly music stories from Baptist partner churches in New Zealand. These churches were not part of Elke Keeling's research project but incidentally they do reflect her findings about the impact mainly music plays in spiritual nurture of both children and adults. Names have been changed for privacy purposes.
Story one
Melissa encourages her team to look for opportunities in conversations, to get beyond day-to-day stuff. This encouragement has led to amazing connections. One was a mainly music mum's oldest child, in their early teens, now coming to the church youth group! Through having the regular commitment of families attending, the team commits to building relationships outside the session times.
Story two
A rather hesitant Sarah arrived at mainly music with her not-yet-two-year-old boy. Rebecca, the mainly music leader, introduced herself, saying, "mainly music is a safe place, where there is no judgement, where children can run around, and where you can make yourself comfortable. And, we always have someone at the front door so children can't get out onto the road." This was not her usual welcome to new mums. Rebecca realised later this was a real God moment. Unbeknown to her, this little fellow was hyperactive. Sarah was concerned whether he would fit in or cause havoc. Sarah now comes every week. She is served with a hot drink and delicious cake, and Wednesday has become the highlight of her week.
Story three
Katrina, a team member, met Sophia, a mainly music mum, on the bus. Sophia mentioned how her son had a strong Christian faith now, which she attributed to her son's attendance at mainly music and the church's holiday programme.
---
References:
James Fowler, Stages of Faith (San Francisco: Harper, 1981), page 121.
Karen Marie Yust, Real Kids, Real Faith – Practices for Nurturing Children's Spiritual Lives (San Francisco, CA: Jossey-Bass, 2004), xii.
Scripture: Unless otherwise specified, Scripture quotations are from New Revised Standard Version Bible, copyright ©1989 National Council of the Churches of Christ in the United States of America. Used by permission. All rights reserved.
Scripture quotations marked MSG are taken from THE MESSAGE, copyright © 1993, 2002, 2018 by Eugene H. Peterson. Used by permission of NavPress. All rights reserved. Represented by Tyndale House Publishers, Inc.