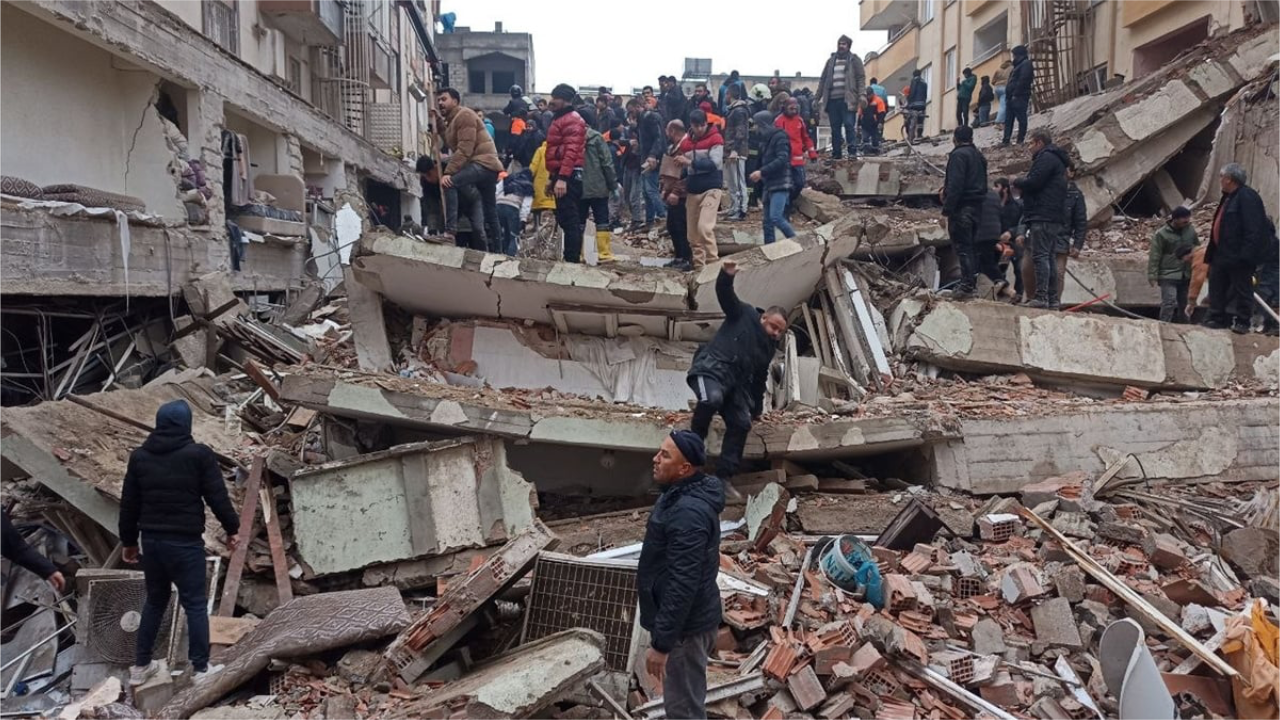 Here's what's happening in Turkey and Syria, with updates and response resources from the Baptist World Alliance.
Several nations and organisations are mobilising to rescue and support the millions of people affected by the 7.8 magnitude Turkey-Syria earthquake on Monday, 6 February.
Three days after the earthquake and significant aftershocks, the death toll is close to 12,000. The World Health Organisation warned that the disaster could impact 23 million people and casualties surpass 20,000.
A pastor in Antakya, Turkey, says "Everything is gone, the church is collapsed, my house is gone, we don't have anything. People are cold and hungry and outside. There is crying and screaming everywhere. Many are under the collapsed buildings. The help is not here yet" (Barnabas Aid, 2023).
A winter storm hindered rescuers, and survivors face below freezing temperatures. Over 380,000 people are sheltering in hotels, shopping malls, stadiums, mosques, community centres and trains.
"It is incredibly cold in Syria right now. We are extremely concerned that many people…could still be trapped under rubble. Others are still homeless and making do with what they can, including sleeping in cars", says Kathryn Achilles, Advocacy Media and Communications Director for Save the Children Syria (Save the Children, 2023).
Before the earthquake, northern Syria had already experienced the collapse of its infrastructure and essential services under conflict, the collapse of the economy and, more recently, a severe cholera outbreak.
Aleppo was hard hit by the aerial bombings during Russian-Syrian offences against rebel-held areas, leaving fragile buildings. The Monday earthquakes have significantly damaged the Aleppo Baptist church. Baptist World Aid is collaborating with the European Baptist Federation for more details on current needs. Difficulties in cross-border aid flow into Syria remain, and Turkey is trying to open two more border gates.
Turkey's Gaziantep province was the most severely shaken by the earthquake, with the epicentre located 26 kilometres east of Nurdaği city. Turkey's disaster management agency is dealing with over 11,342 reports of collapsed buildings.
The Turkish Baptist Alliance describes the impact on our Baptist family in Adana in this update:
"Our country is in great shock. Many buildings are damaged. People left their homes and their cities. There are a lot of traffic jams and it is very cold. It is snowing in most of the cities. This week the weather will be below 0 Celsius. The roads are also seriously damaged. This makes the search and rescue more difficult. The next 72 hours only professional search and rescue teams are allowed to go to the earthquake area. Thanks to the Lord, our Baptist churches and the members are all well. Adana is among the affected cities. 15 buildings collapsed and many were damaged. It is not clear if the building where the church is meeting is damaged or not. Two neighbouring buildings collapsed to where the pastor of the Adana Baptist Church and General Secretary of our Union and his family are living. The church members of Adana Baptist Church are all fine. They are waiting in cars and parks. The hometown of Abdullah Ergüven, Pastor of Istanbul Baptist Church, is Kahramanmaras. He has relatives and friends who are affected. He wants to go there but the roads and airports are closed at the moment. We once again are blessed to have you as our family. Thank you for your messages, prayers, and support. Please pray for our country and for the ones who lost their dear ones" (Baptist World Alliance, 2023).
The Baptist World Aid has partnered with Hungarian Baptist Aid, quickly joining the global effort to provide immediate help. Baptists in Aotearoa can also act to support our family and their communities in Turkey and Syria.
What a powerful thing it is to pray. If you feel upset that the only thing you can do in these crises is pray, I've been told it is the best thing you can do!
The Baptist World Alliance has provided a 'Pray for Syria & Turkey' prayer guide which you can open here.
There is also the option to donate towards rescue efforts at baptistworld.org/syria-and-turkey/ where you can read more information on how Baptists are responding.
Image sourced from Baptist World Alliance
References and sources
Badshah, N., Henley, J., & Belam, M. (2023, February 9). Turkey-Syria earthquake 2023 [Live update]. The Guardian. https://www.theguardian.com/world/live/2023/feb/08/turkey-syria-earthquake-death-toll-homeless-disaster-latest-updates?filterKeyEvents=false&page=with:block-63e34c8a8f08398676704bef#block-63e34c8a8f08398676704bef
Baptist World Alliance. (2023). Standing together with the people of Syria and Turkey. https://baptistworld.org/syria-and-turkey/
Barnabas Aid. (2023). Yes, you can help Christians affected by the Turkey-Syria earthquake. https://www.barnabasfund.org/nz/latest-needs/yes-you-can-help-christians-affected-by-the-turkey-syria-earthquake/
Save the Children. (2023). Children sleeping in cars as too scared to go inside while freezing conditions hinder aid to Türkiye, Syria earthquake zones [Press release]. https://www.savethechildren.net/news/children-sleeping-cars-too-scared-go-inside-while-freezing-conditions-hinder-aid-t-rkiye-syria
Sullivan, H. (2023, February 8). Turkey-Syria earthquake 2023 [Live update]. The Guardian.https://www.theguardian.com/world/live/2023/feb/07/turkey-earthquake-syria-in-turkiye-2023-live-updates-latest-news-map-magnitude-7-8-scale-quake-tremor-death-toll-gaziantep-kahramanmaras?CMP=Share_iOSApp_Other
Yerushalmy, J. (2023, February 7). Syria earthquake aftermath: Why situation is so bad in war-ravaged country? The Guardian. https://www.theguardian.com/world/2023/feb/07/syria-earthquake-aftermath-why-is-situation-so-bad-in-war-ravaged-country-aleppo-idlib