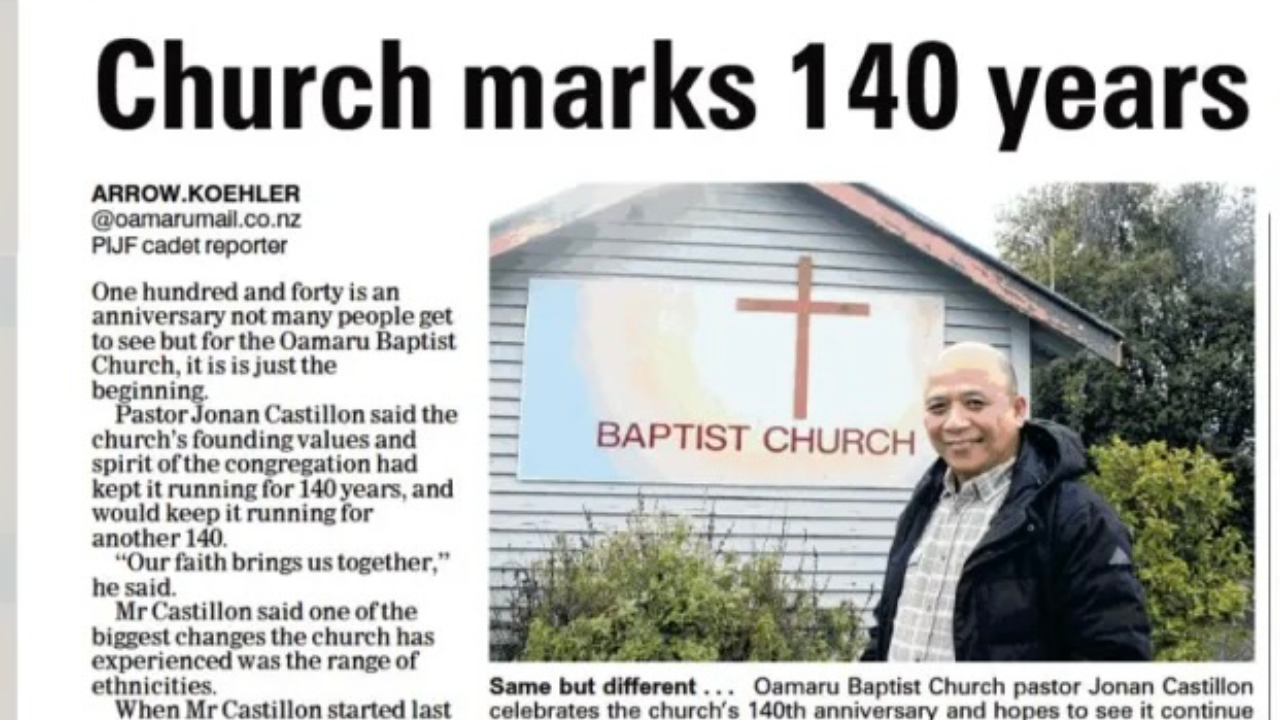 Jonan Castillon is Pastor of Oamaru Baptist Church and part of the Baptist NZ Editorial Advisory Group. This story is reproduced from the Gleniti Baptist Church Multicultural Response blog.
How does a Baptist church recovering from a diminished membership and ministry slump celebrate its 140th Founding Anniversary?
Many members left because of the uncertainty that Oamaru Baptist Church was facing. They thought that Oamaru Baptist Church's life was about to end.
Among the few who remained, two proposed selling the church's property and members moving on to attend other Christian churches.
However, nine people resolutely stood for Oamaru Baptist Church's existence. Their firm stand was that they would remain "unless the Lord removes us from this place." The Lord answered their prayers for a pastor who would lead them in their church life journey, among others.
The above was the situation when I started as interim pastor in June 2022. Since then, Oamaru Baptist Church has experienced a gradual revival and growing back.
Below are my reflections as we celebrate Oamaru Baptist Church's 140th Founding Anniversary.
1. Publish in the local paper that Oamaru Baptist Church is still existing
What came to my mind a few months ago when I was thinking about Oamaru Baptist Church's 140th year is to let the community know that "we are still here."
As part of Oamaru Baptist Church's 140th founding anniversary celebrations, we advertised the event on Oamaru Mail and also requested a news feature written about it.
I am happy that the governance team approved my request for Oamaru Baptist Church to sponsor an advertisement on Oamaru Mail.
When I started at Oamaru Baptist Church last June 2022, I learned a lot about the church through the Oamaru Mail archives online (Papers Past).
So, I thought, why not get an advertisement to thank Oamaru Mail for publishing about the church and its ministries over the years and inform the district that Oamaru Baptist Church is still here for them?
Pretty timely because the paper has an ongoing winter's special, so we paid half the price for a half-page advertisement.
Below are the Oamaru Baptist Church items in the 18 August Oamaru Mail edition.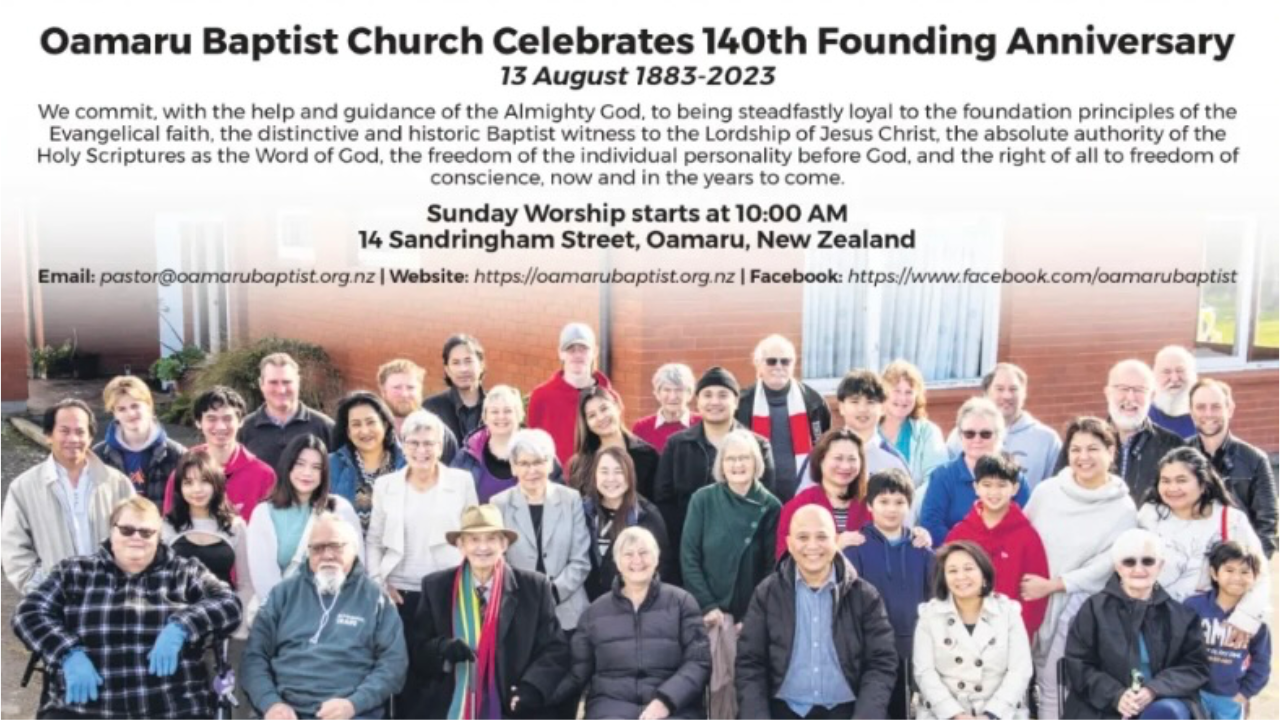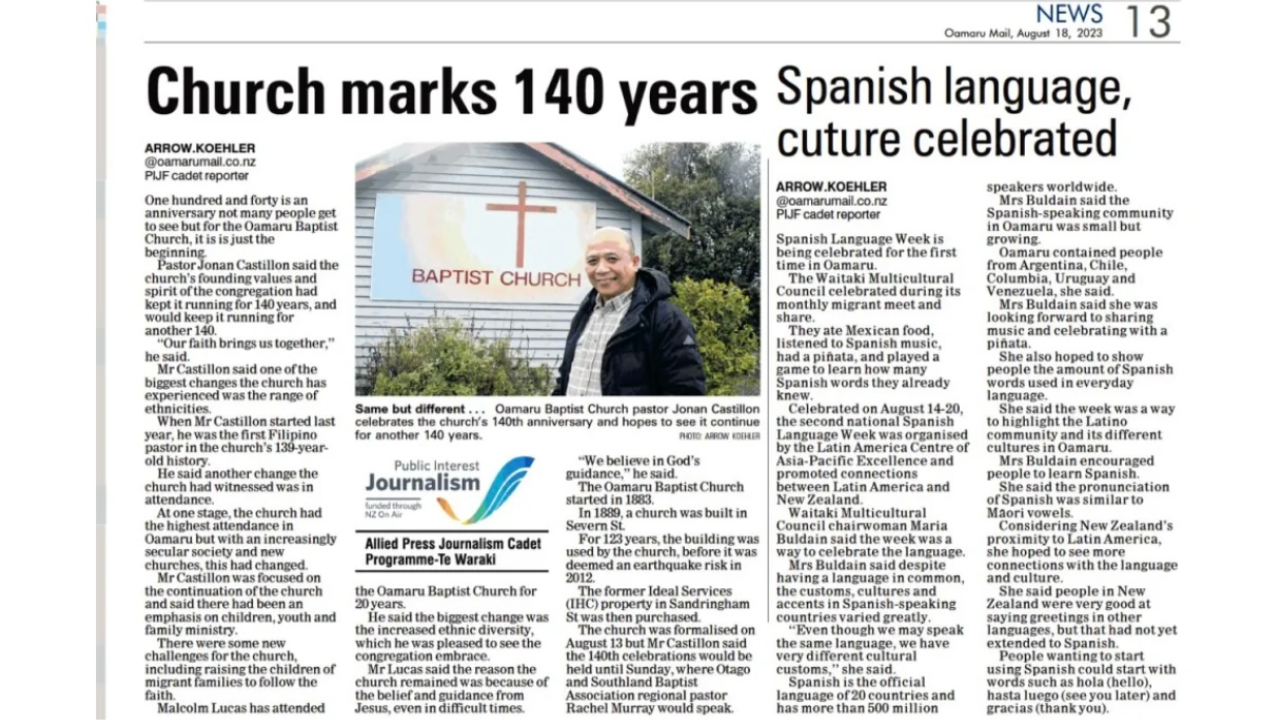 2. Only God knows how many years His church will last
The 23 pioneering members of Oamaru Baptist Church on 13 August 1883 had no idea how many years or that the church would still exist today. Neither do we.
We can only pray for God's grace and mercy to sustain His church, now and in the years to come.
I hope and pray that the photo and article about the Oamaru Baptist Church published today, 18 August 2023, will be an extant source of inspiration for the present members in the next 140 years.
3. The Lord formed a team to sustain Oamaru Baptist Church
A church governance team devised a timely intervention in Oamaru Baptist Church's existence as a church. The group appointed and commissioned me as pastor of Oamaru Baptist Church on 12 June 2022.
Thanks to the NZ Baptist governance team, composed of the Otago Southland Baptist Association Regional Leader, Rachel Murray and the former Canterbury and Westland Regional Leader, Kim Peters, and Kānuka Hopestill Limited General Manager, Bradley Nicolson. Kim retired in March 2022. I became part of the team after my installation.
Bevan Sharpe, Oamaru Baptist Church's passionate deacon/leader, provides critical help on the ground as I am based in Timaru. Other members participated in the children, youth, adult, music, and prayer ministries.
Behind all these is the valuable involvement of Hopevale Trust, which financially supports my pastoral work at Oamaru Baptist Church. Thanks to Gleniti Baptist Church, our home church in Timaru, where I work as Multicultural Response Ministry Coordinator, that "sent" me and my family to work with Oamaru Baptist Church.
Unknowingly, a local mission model developed while implementing a multicultural response ministry, which includes working with Oamaru Baptist Church.
4. Celebrating Oamaru Baptist Church's founding values
Today, we say the same founding values Oamaru Baptist Church members discussed during its Centennial celebration in 1983.
Today we thank God for those early pioneer members who, with indomitable courage, steadfast faith and sanctified vision, established the Baptist Cause in this town. We bless our God for every remembrance of them. Their faith and their hopes we share as a glorious heritage. God grant that we prove worthy of the trust they have left us.
In retrospect by David H. Stewart
We celebrate the church's founding values because they last. People and buildings don't.
Following the Ministry Appreciation and Participation Toolkit, we mapped out Oamaru Baptist Church's faith-wisdom. The result is the faith-wisdom statement below.
Oamaru Baptist Church must plan and implement programs that teach, train, and track the founding values of every member (dynamic discipleship).
>> steadfast faith
>> indomitable courage
>> noble vision
>> hope, and
>> generosity
Closing thoughts
Although the Oamaru Mail reporter didn't mention "discipleship" in her article, Oamaru Baptist Church focuses on the dynamic discipleship of the children, youth, and family to ensure its continuous existence, now and in future generations.
Below is our pledge, which we adopted from the "In Retrospect" article David H. Stewart wrote for the Oamaru Baptist Church Centenary.
We commit, with the help and guidance of the Almighty God, to being steadfastly loyal to the foundation principles of the Evangelical faith, the distinctive historic Baptist witness to the Lordship of Jesus Christ, the absolute authority of the Holy Scriptures as the Word of God, the freedom of the individual personality before God, and the right of all to freedom of conscience, now and in the years to come.
We draw inspiration from Hebrews 12:1-2, which says:
Therefore, since such a great cloud of witnesses surrounds us, let us throw off everything that hinders and the sin that so easily entangles. And let us run with perseverance the race marked out for us, fixing our eyes on Jesus, the pioneer and perfecter of faith. For the joy set before him, he endured the cross, scorning its shame, and sat down at the right hand of the throne of God.
When we perpetuate celebrating the church's founding anniversary, we take the time to look back, see the present, and look towards the future that is always bright in God's loving care.
As a church, we continue to work for the Lord as long as it's day, teaching, training, and tracking Oamaru Baptist Church members to become Christians of steadfast faith, indomitable courage, noble vision, hope, and generosity.
TO GOD BE THE GLORY! AMEN.