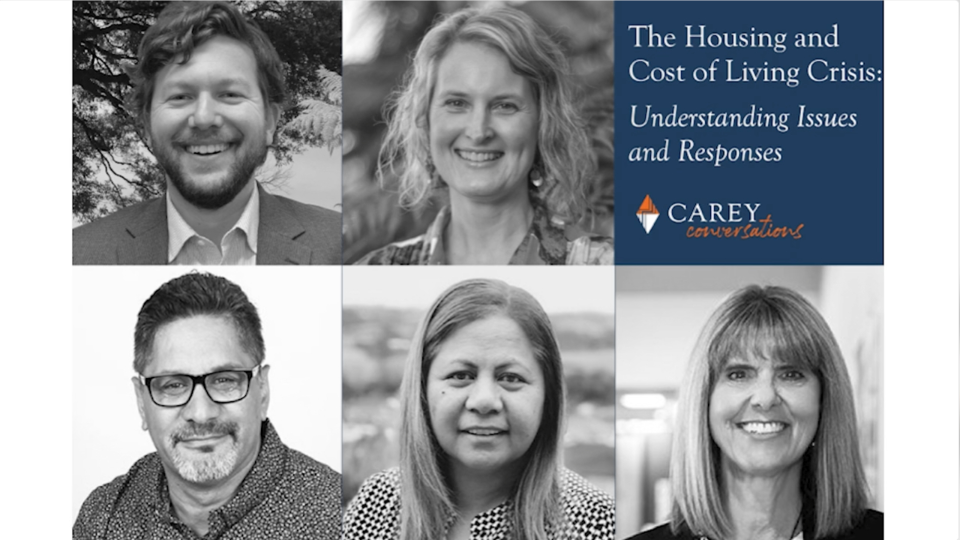 Carey Conversations seek to demonstrate how the Bible and theology can speak to the complex issues which we are facing in Aotearoa today. In the recording of this recent conversation...
The cost of living and housing crisis is having a significant and ongoing impact on individuals, families, and communities. The issues involved are complex and multifaceted and can leave us wondering what, if anything, we can do in response. In this Carey Conversation, we were joined by leaders from Visionwest Waka Whakakitenga as we seek to better understand the scope of the issue, the disproportionate impact it is having on some of our communities, and the range of forces at play. We looked at some initiatives that are already in place to help mitigate this crisis and discuss how interested churches can partner in this work. We also explored a potential framework for guiding individuals and churches who want to get involved in constructive and mana-enhancing ways of responding, now and in the future.
Listen in to the conversation recording, now a podcast episode in The Audio Drawer
Available on: the Baptist NZ website, Spotify and Apple Podcasts
Watch the 90-minute video of the Carey Conversation below:
The Panel:
Lisa Woolley is the CEO of Visionwest Waka Whakakitenga, one of New Zealand's largest community services providers, serving over 50,000 people each year through more than 1,800 employees and volunteers throughout New Zealand. Visionwest is well-known for its innovative and holistic approach, encompassing a wide range of services to the community.
Judy Matai'a is Visionwest's Head of Housing and Pasifika Development. Prior to joining Visionwest, Judy was the Chief Executive Officer for the Anglican Trust for Women & Children (ATWC), based in Auckland. Judy has also worked for the Department of Child Youth and Family Services (now Oranga Tamariki) as well as teaching in the undergraduate & masters social work programmes at Unitec.
Fred Astle is part of the Visionwest executive team as Pou Whakarae (Head of Māori Development & Education). Fred is also the Director of Kaupapa Māori for the Surgical & Translational Research (STaR) Centre at the University of Auckland, and has worked for Māori community health at ADHB, Māori mental health, tertiary education, and various other government departments.
Emma Stokes teaches Bible and Mission at Carey Baptist College. Emma's teaching and research are grounded in her involvement as a partnership facilitator in S.E. Asia for Bright Hope World and through service on the Boards of GC3 and BHW.
Dr Michael Rhodes teaches Carey Baptist College's Old Testament courses. Prior to coming to Carey, Michael spent 7 years working for Christian community development programs, first in Kenya, and then in the economically impoverished South Memphis community.
Photo: Supplied by Carey Baptist College